4 Best Calendly Alternatives for Freelancers & Small Businesses [2020]
Looking for a simple online scheduling tool for your appointments or meetings? Here is the list of the promising alternatives to Calendly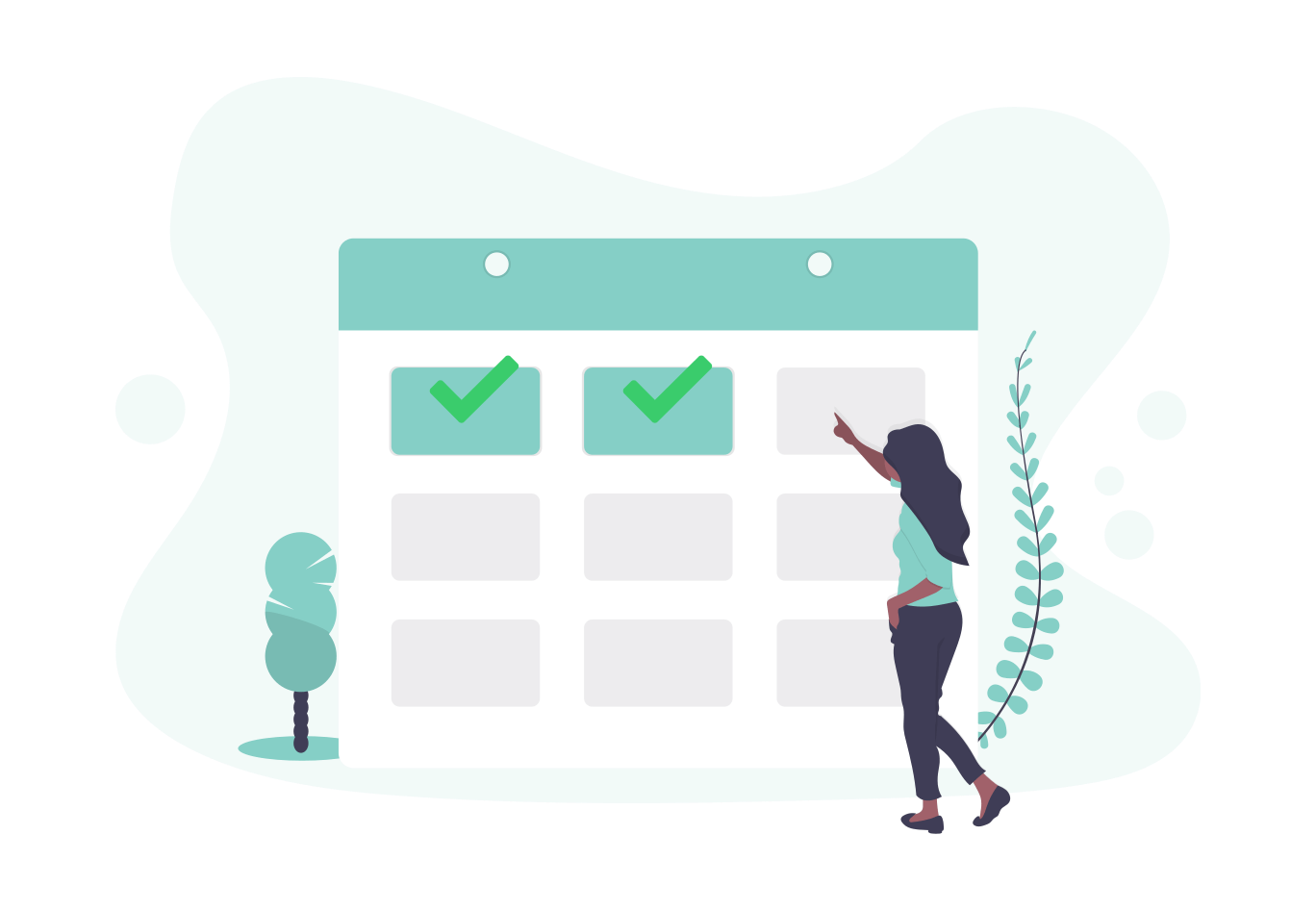 When it comes to an online appointment scheduling software, Calendly is probably the most well-known SaaS (software as a service). However, while Calendly does its job as promised, it's not certainly the only scheduling tool available out there.
So here is the list of 4 legit alternatives to Calendly you should definitely check out. We dig into the details of each tool with some screenshots of the invite / booking page to show you how they will look on the invitee's point of view.
Doodle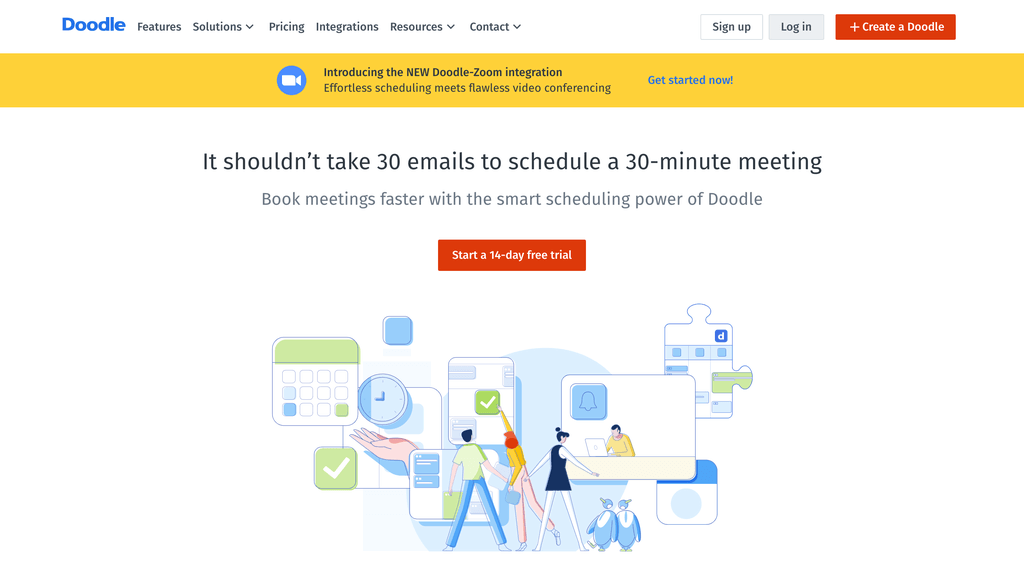 Doodle launched in 2007, more than 10 years ago, and is one of the most well-known tools for quick scheduling. From my understanding, Doodle is popular especially in European countries.
What's special about this tool is that you get to use it for free without an account (you still need to enter an email though), which makes it easy for people to just try it out and see how it feels or works.
Being able to use it for free as much as you want is definitely a good thing but it comes with a catch: the annoying Ads...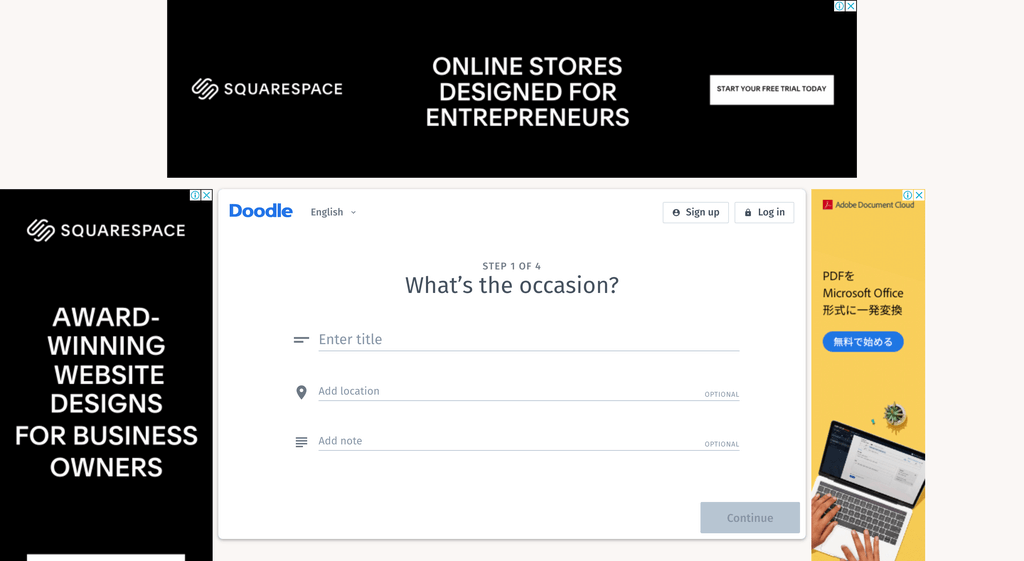 As you can see the screenshot above, when using it as a free user, multiple ads on both sides as well as on top will be shown on each page.
Although Doodle is not that well-designed and a bit slow when loading pages, it does support multiple scheduling types (poll, 1-on-1, appointment page style) with quite easy-to-understand interface.
If you are looking for a simple, quick scheduling tool, Doodle is one of the best tools but if you are looking for a good, feature-packed appointment software, Doodle's bookable calendar might be too simple and not suitable for business use.
Top features
Note that some of the following features are available for the premium plans (explained in the next section).
Schedule 1-on-1 meetings
Poll for group scheduling
Appointment page (booking scheduling)
Calendar app integrations
Zoom integration
Custom branding (logo, URL, etc.)
Slack bot
Team (multiple users) management
Survey
Pricing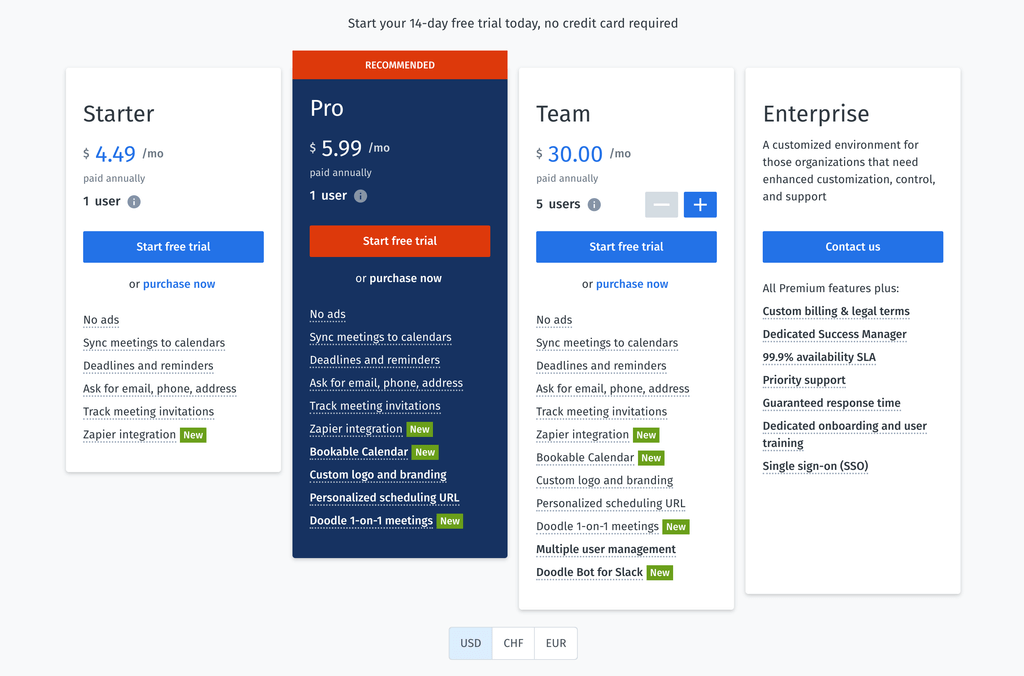 You can use Doodle for free with Ads (without subscribing to plan) but there are 3 paid plans (a.k.a Doodle Premium) with more features.
Those paid plans are available in 3 different currencies but I'll take USD for an easy comparison here.
Starter: $4.49 /mo /user
Pro: $5.99 /mo /user
Team: $30 /mo /5 users
Note that the prices are for annual subscriptions.
Invite page screenshots
First of all, this is how the Doodle's poll page looks like for the invitees.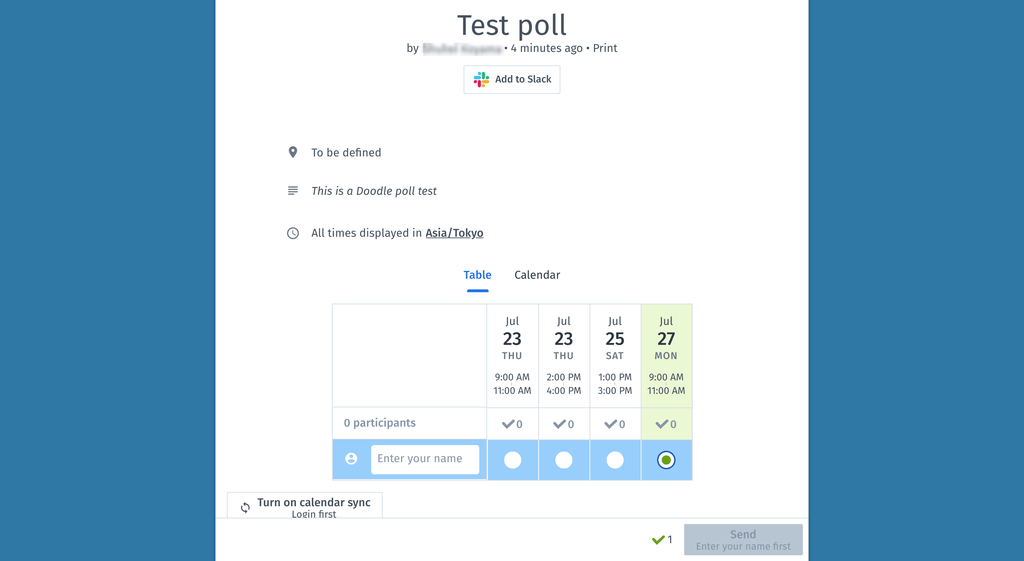 This is the table view and you can switch it to calendar view as well.
Second, when you are invited to 1-on-1 with Doodle, the page looks like this.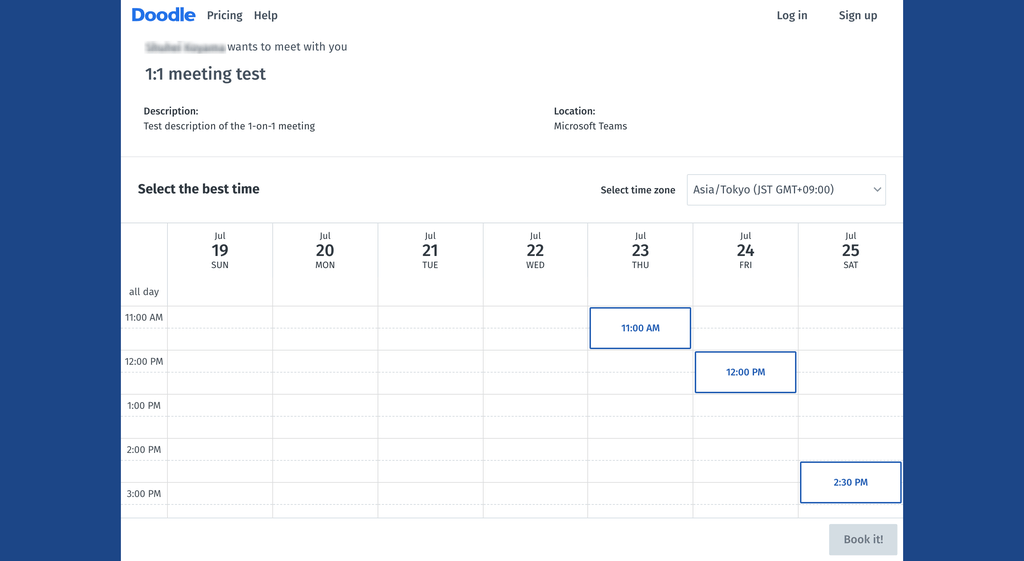 You need to enter Name and Email after selecting one of the time slots.
Lastly, this is Doodle's bookable calendar page looks like for invitees.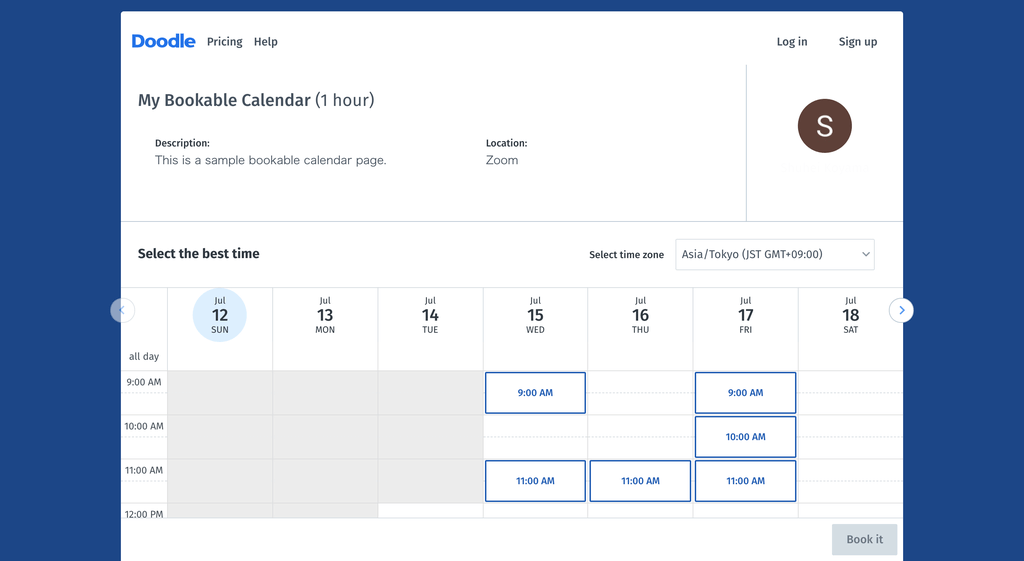 You Can Book Me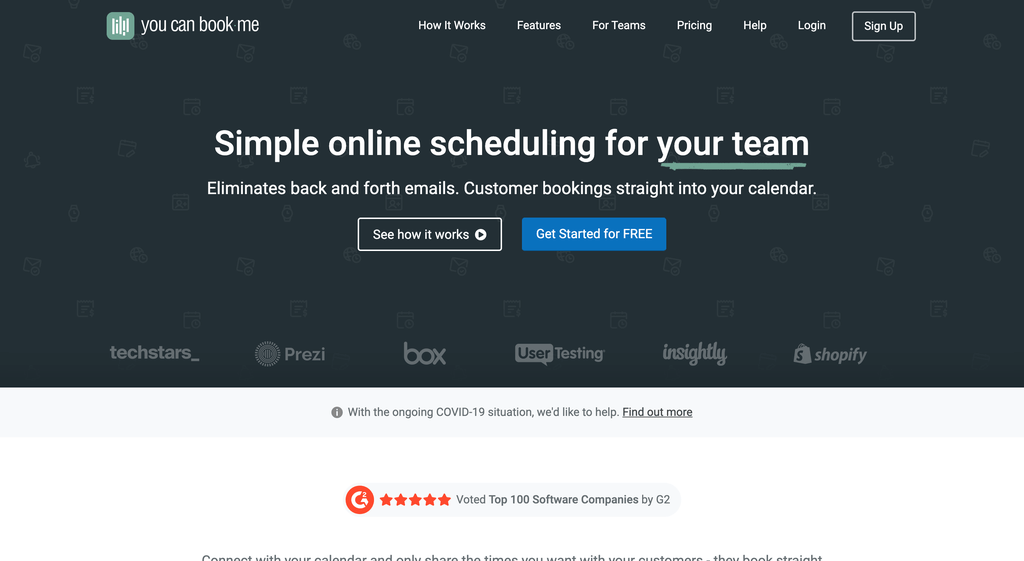 YouCanBook.Me focuses on the appointment / booking scheduling with great customizations and flexibilities. It does not work well for simple 1-on-1 meetings or poll-style scheduling but if you are just looking for an appointment scheduling & management software, YouCanBookMe is definitely one of the best solid alternatives to Calendly.
The visual design of the application is rather simple and not-so-modern but at least it's fairly easy to use which is a critical factor when it comes to choosing the right tool. Calendly does look very cool and modern but some people may find YouCanBookMe more intuitive and easy to spot things here and there within the application interface.
It also works well for teams so it can be used by sales team, customer onboarding team, recruiting team, etc..
Top features
As being a freemium SaaS, some of the features are available for the paid plan only.
Schedule appointments/bookings
Custom branding
Team management
Calendar app integrations
Zoom integrations
Stripe integration to accept payments
Public APIs
Pricing
YouCanBook.Me keeps the pricing super simple, either Free or Paid. There are no different tiers for paid plans.
Free plan: Free
Paid plan: $10 /mo /user (when billed monthly)
With their free plan, you can create only one booking page and the customizations / options are limited.
If you are to use it for business purpose, you'll probably need to subscribe to the paid plan. They offer 14-day trial so that you can see what are the paid options and what are not by actually touching the application.
Appointment page screenshots
The style of the booking page of YouCanBook.Me is quite similar to Calendar's.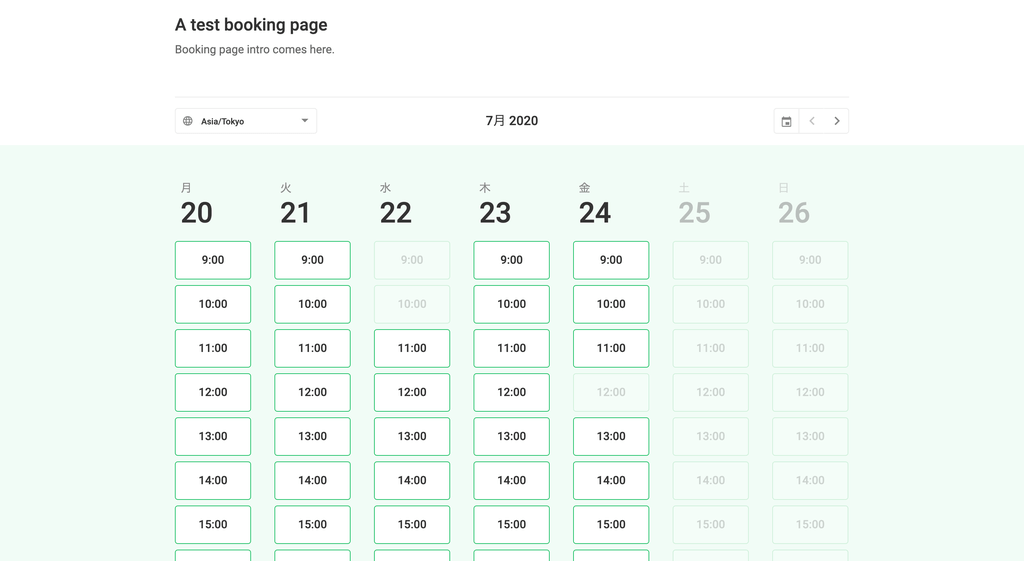 It shows a weekly calendar UI with the available time slots for visitors to choose from.
Once you pick one of those times, you will be then asked to provide some more information before confirming your booking.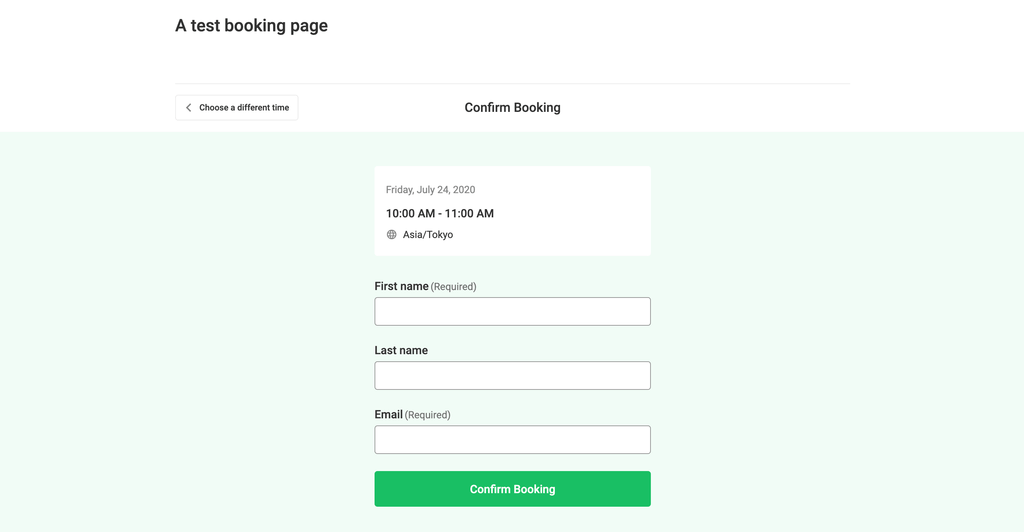 Zoom.ai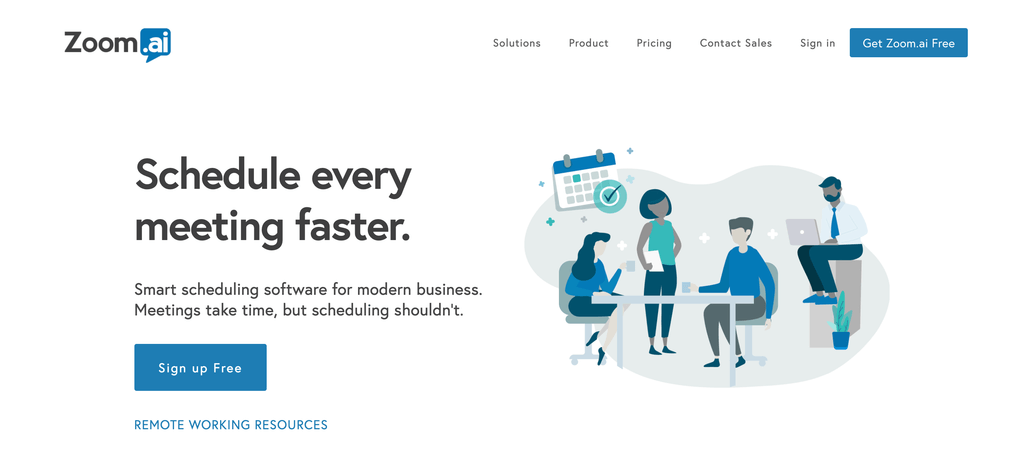 With Zoom.ai, you schedule meetings by using one of the meeting types (templates) which are pre-configured with the meeting duration, availability window, etc.. They are customizable but given that scheduling starts by selecting a meeting type, I'd say that Zoom.ai is more geared towards those who conduct the same kind of meetings over and over.
Although you could send a private meeting invite to specific invitees without using the meeting types, it's still not as easy and straightforward as what other scheduling tools offer.
FYI, this is the user dashboard default screen. Here, you can configure the meeting types or create new types.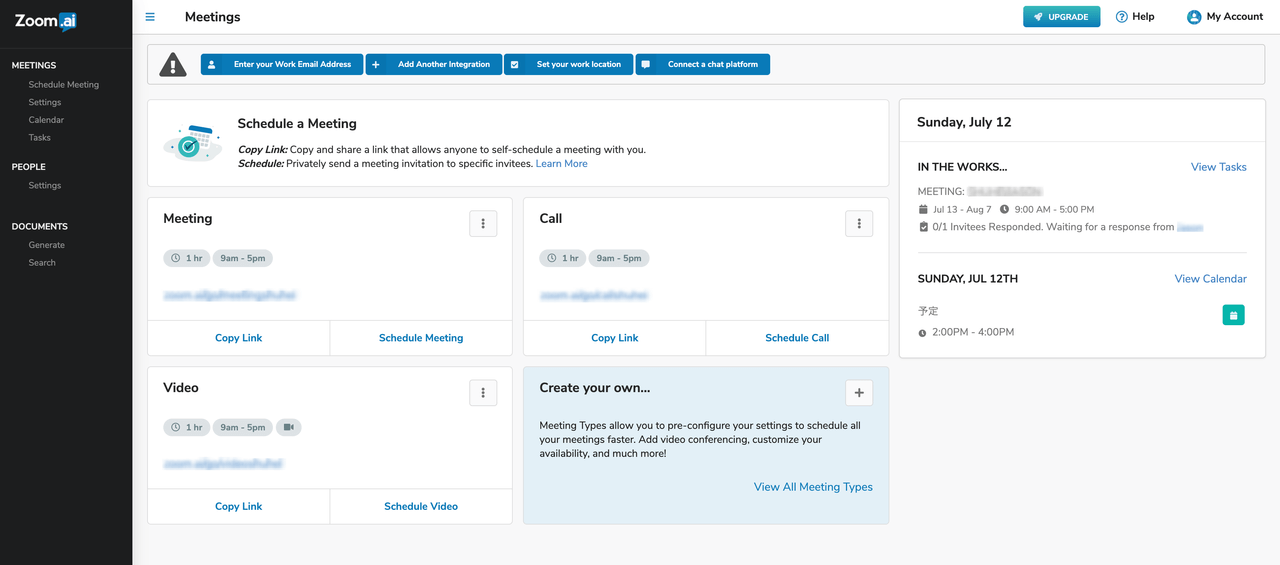 What's unique about Zoom.ai is probably that you can connect it with ATS or CRM software to get attendee insights, which might be a good feature for sales or marketing reps to be better prepared for the meeting or appointment.
Also, Zoom.ai supports more than 60 integrations which is a bonus for those who want to do some heavy workflow automations.
Top features
Some of the following features are available only for the paid plans, or are limited to a certain amount of usage per month with the free plan.
Calendar app integrations
ATS & CRM integrations
Video conference app integrations
Meeting briefings
Team management (mutual availability)
Storage app integrations to generate documents (contracts, sales presentations, etc.)
Meeting room booking
Outlook plugin & Gmail extension
Customer support app integrations
Custom branding
Pricing
When you sign up for Zoom.ai, you'll get 14-day free trial for Professional plan.
Basic: Free
Professional: $15 /mo /user
Team: $25 /mo /user
Invite page screenshots
When you access the Zoom.ai's invite page, the first thing you need to do is enter Name and Email.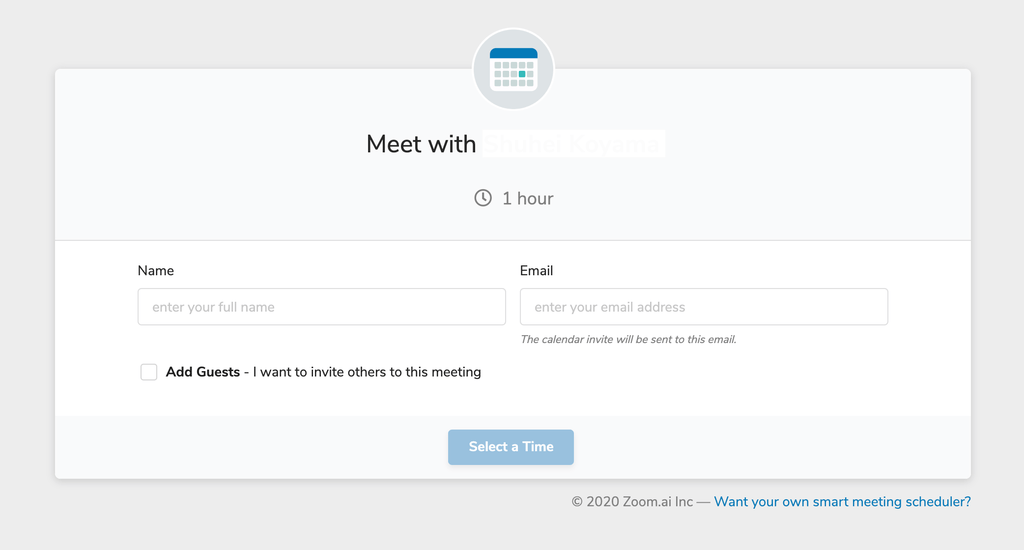 Then, you get to select a time slot from the host's availability.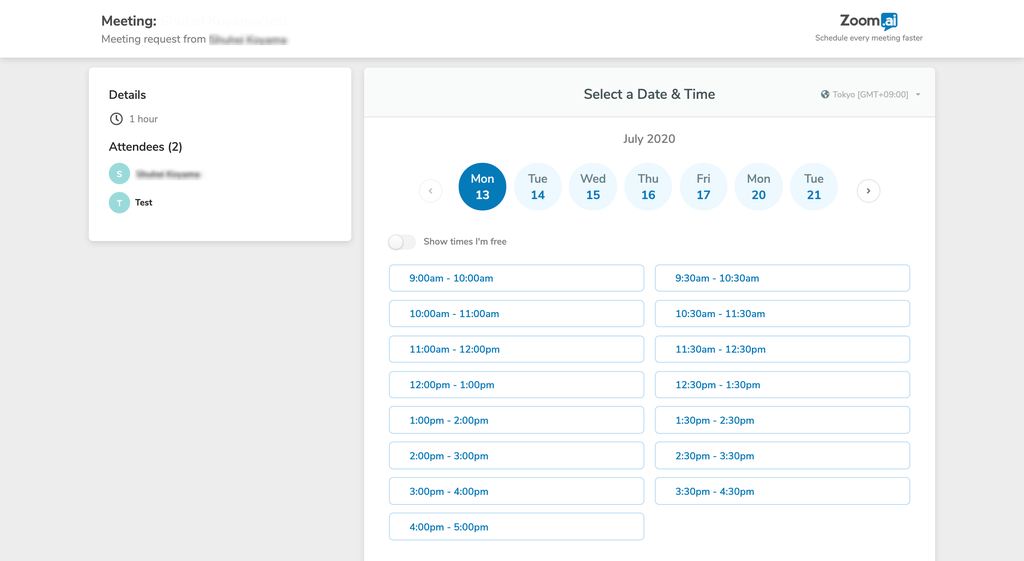 Nothing particularly fancy or visually cool but it does the basic job.
Vyte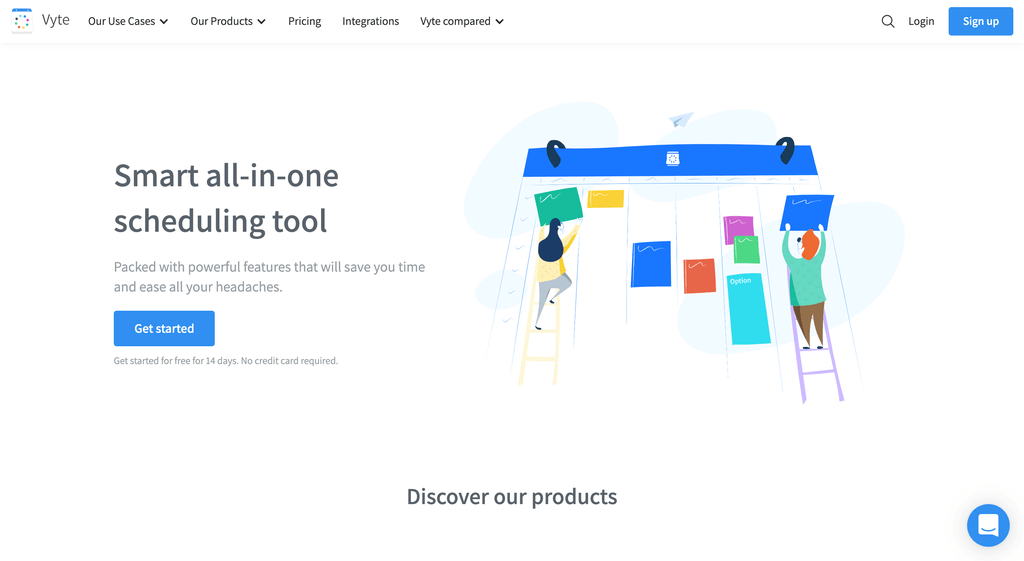 Vyte is a scheduling software from France. It basically supports two different types of scheduling: one is the normal poll/vote type for 1on1 and group events. The other one is so-called Vyte Page where you get your own appointment page.
What's unique about Vyte is how the final decision is made. For 1-on-1 meeting, the invitee can only vote for a preferred time and the host gets to decide on it so the meeting is not set automatically when the invitee picks the time. Also, for the appointment page, it seems as if it's not designed to schedule a specific appointment with the minimum clicks, rather the invitee (or anyone basically) can request a meeting as well as suggesting candidate times for the owner of the appointment page. It could be troublesome if you run a business and want to manage bookings efficiently. But if you are open to any meeting request without any specific set of course or plan, this may come in handy. I think it really depends on the needs.
The interface of Vyte is quite simple and clean and it's not too difficult to use, but you'll notice some minor bugs or inconveniences here and there when you use it for a while. Other than that, given that it provides APIs, iOS app, or Chrome extension, it's a solid alternative to Calendly I would say.
Top features
Calendar app integrations
Poll for group scheduling
Booking page (appointment page)
Scheduling API
Slack integration / bot
iOS app
Chrome extension
Custom branding for the booking page
Pricing
When billed monthly,
Free plan: Free
Pro plan: $10 /mo /user
Enterprise plan: Custom pricing
It's a standard freemium model with 14-day free trial to access all the features with no credit card.
The biggest difference between Free and Pro plan comes to Group scheduling and Vyte Page. Their Plan plan offers much more advanced features when it comes to those two types of scheduling.
If you are interested in using Vyte Page (your own appointment page), you will need to subscribe to the Pro plan ($10 a month) since Free plan has basically no customizations for the Vyte Page feature.
Invite page screenshots
Vyte's invite page for group and 1-on-1 scheduling (vote system).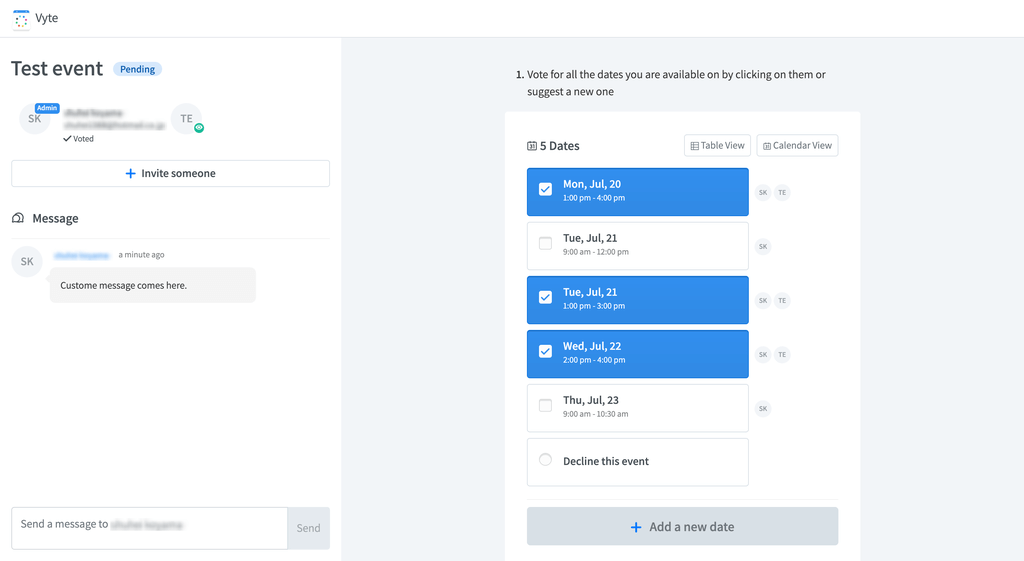 There is no submit or confirm button here. Simply select the time and your vote is done. It's up to the host to decide on the final time.
Note that you will need to enter your Name and Email before accessing this screen.
Next is the Vyte Page.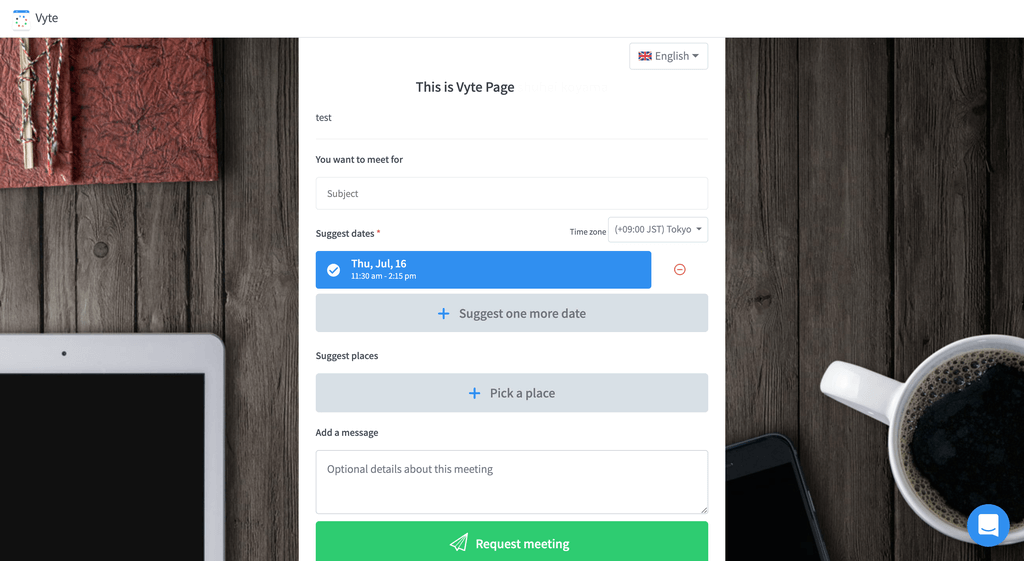 As I explained before, this page is where people can request a meeting by suggesting dates and times for the host/owner. You could say it's a different type of contact form.
And this is how people pick dates and times on the page.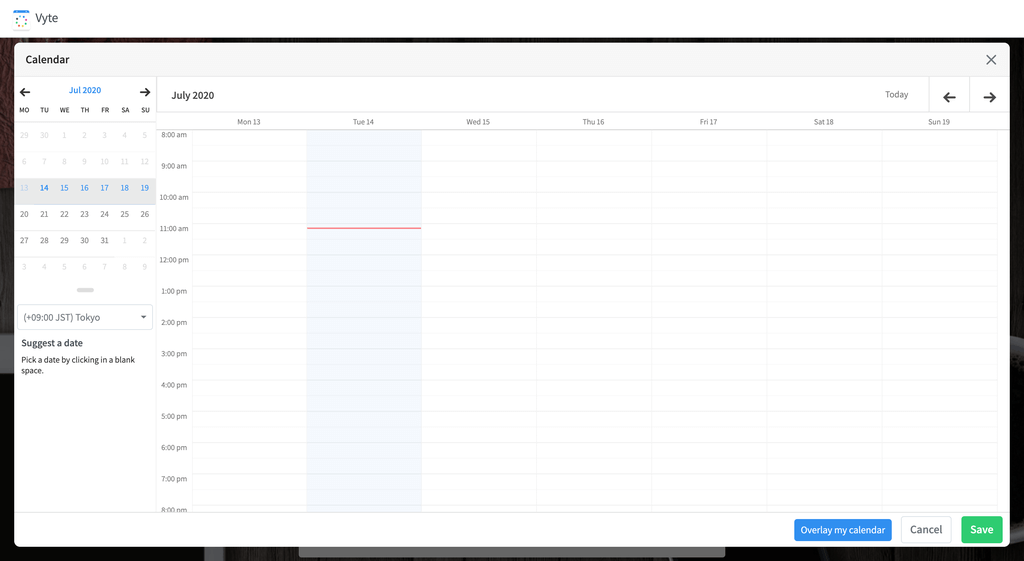 This interface is same for the host to pick times to suggest when creating group or 1-on-1 events from the user dashboard.