How to create Availability Poll with Attendar (it's free)
Availability Poll is a free, easy-to-use tool for group scheduling. In this article, we explain how to use it step by step with screenshots.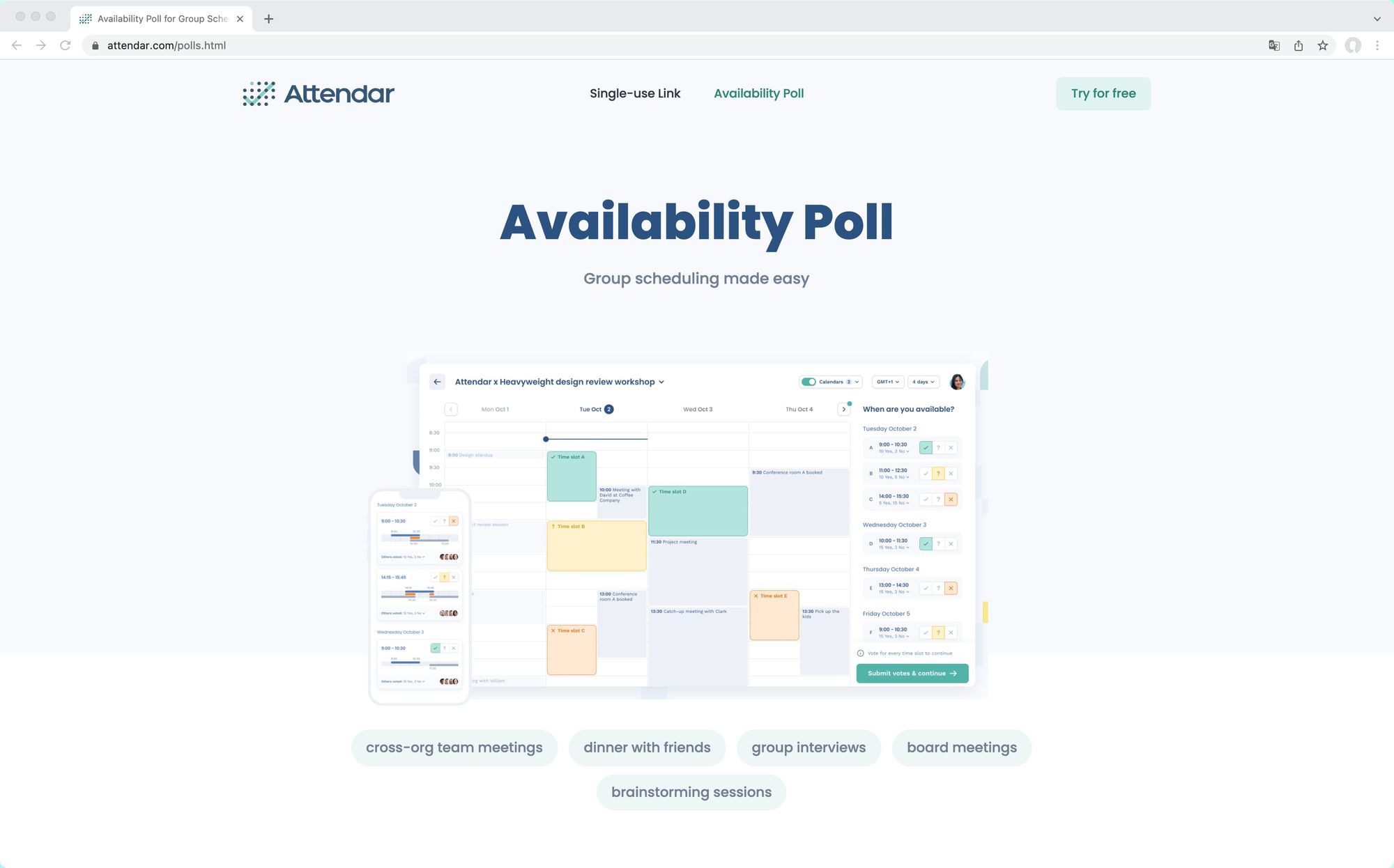 Scheduling an event, meeting or party or whatever it may be, with multiple people could be a daunting task that sucks up not only your time but your energy.
Luckily, there are free online scheduling tools that help you with this scheduling nightmare-could-be.
And Attendar's Availability Poll feature is one of them. In fact, it could be the best of all!
Here is how you can create a scheduling page, let people vote, and see their availabilities to find the time that works best for your group.
Create a scheduling page
First, visit Attendar's website and click Start scheduling for free button.
💡
Creating an account is completely optional. You can just proceed as a guest user.
Then you'll see the page with Single-use Link and Availability Poll to choose from.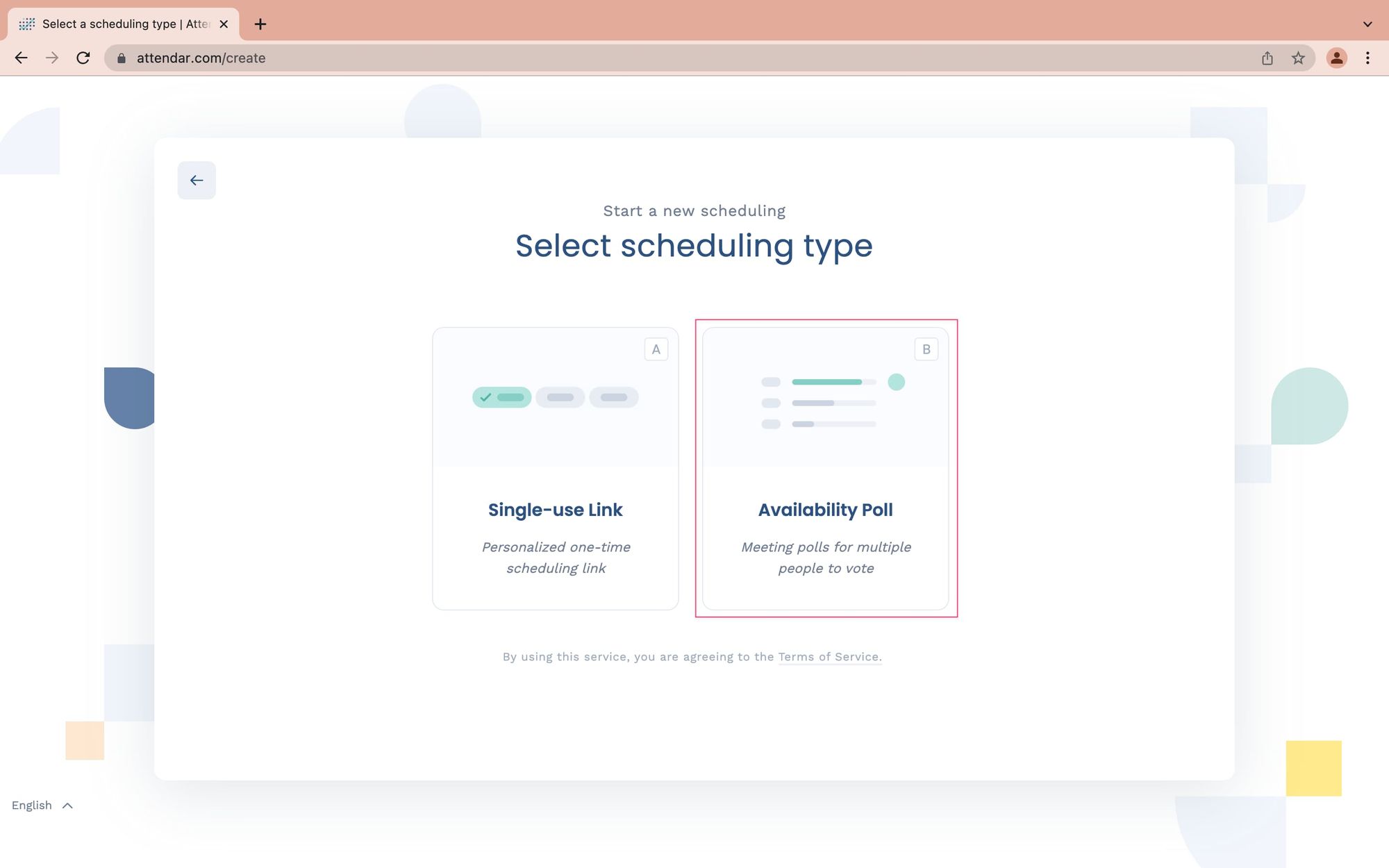 Click Availability Poll as a scheduling type and get started with the creation steps.
First off, give it a title and add a description for the event you are scheduling.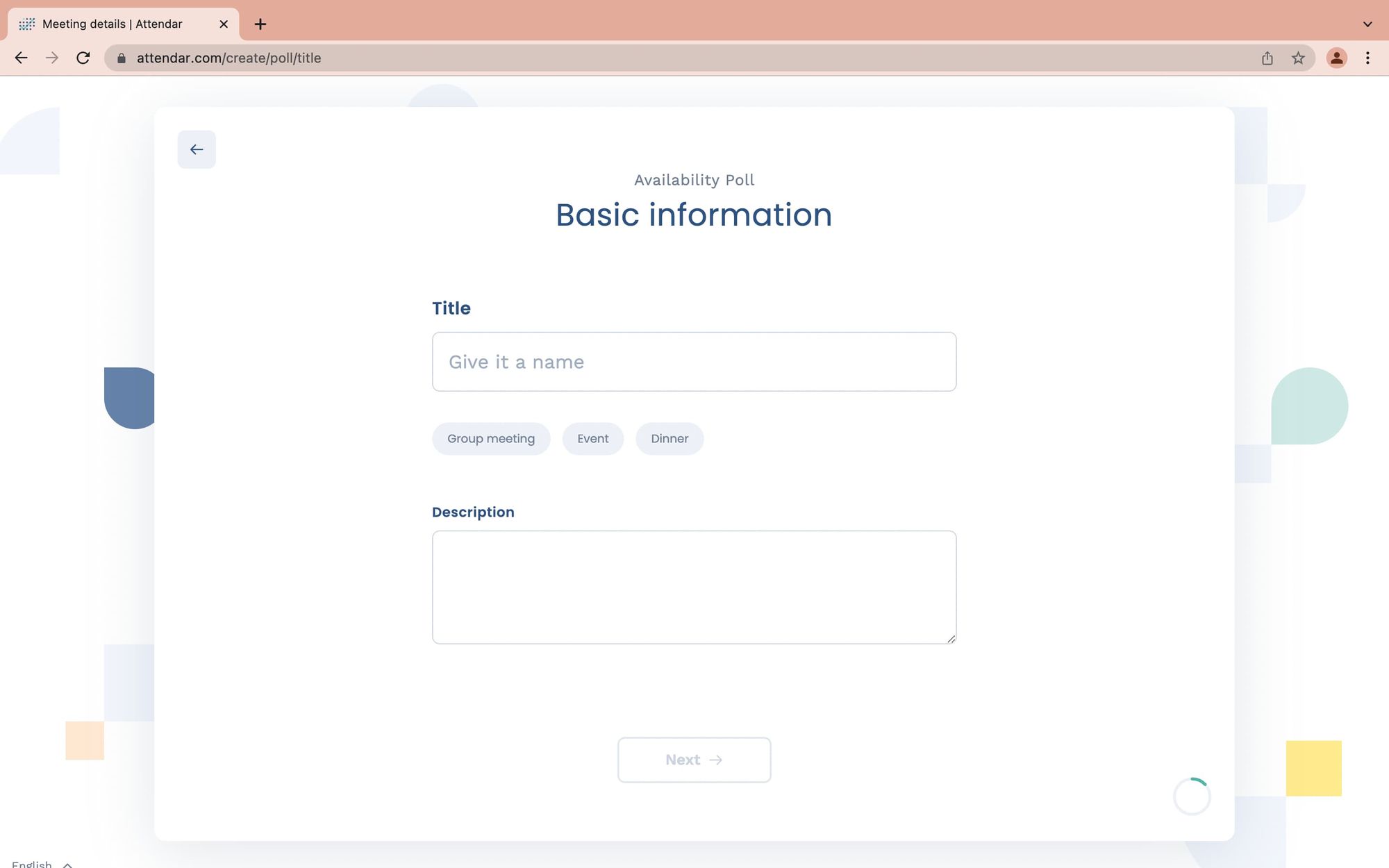 The description field is optional so you can leave it blank if you don't think it's needed.
Next, location. You can select Remote (video conferencing tool or phone call), In-person, or both.
In the screenshot above, Remote is selected. But you can also skip this Location step when no need to specify.
Assuming you choose either Remote or In-person, you get to add the detail of the location in the next step.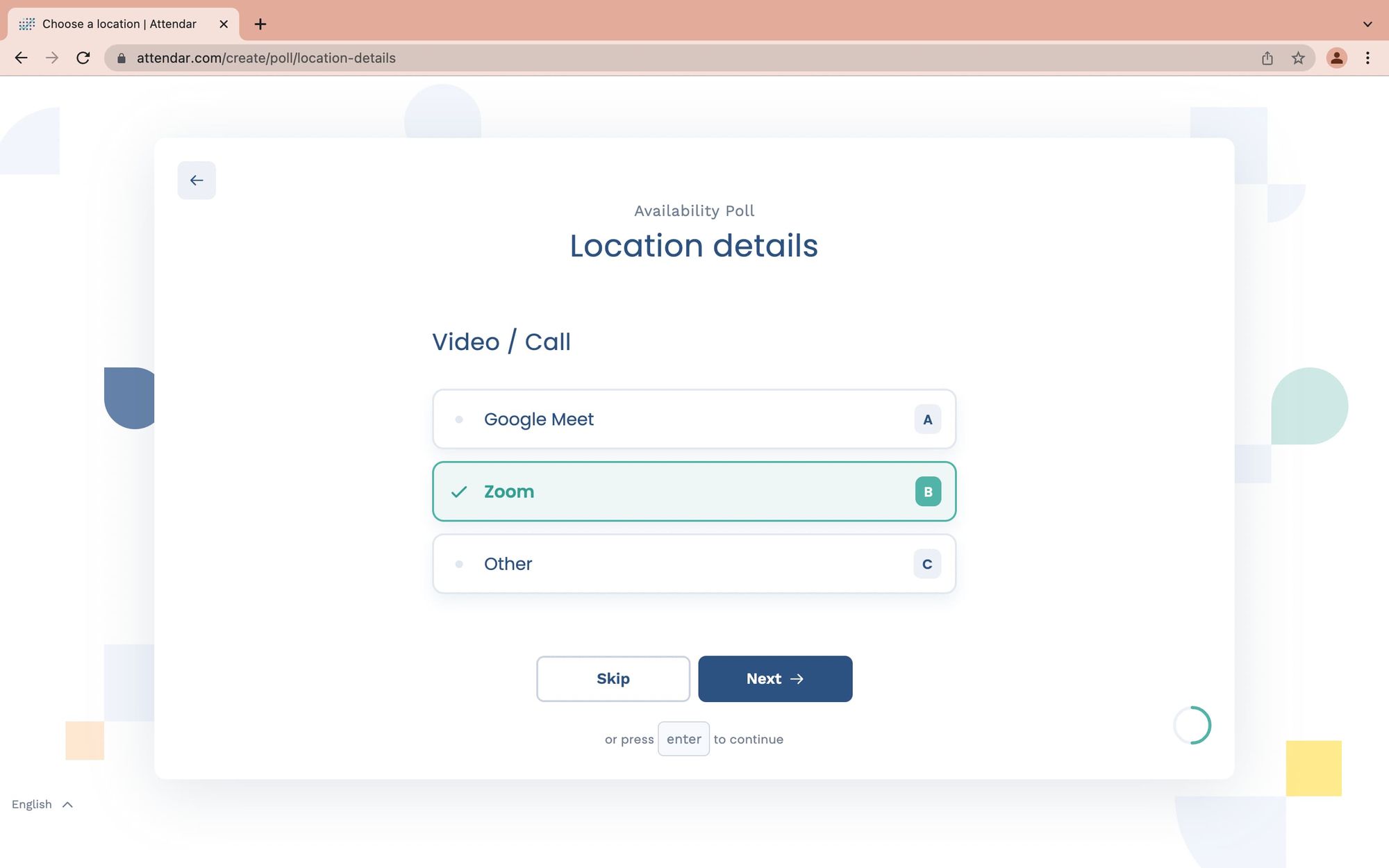 If it's Remote, you can select Google Meet, Zoom, or enter something else in the Other option.
If it's In-person, you can enter the name or/and the address of the place.
Next step is the meeting duration. Available options are from 30 minutes incrementing by 15 minutes. (We might add 15 minutes option down the line.)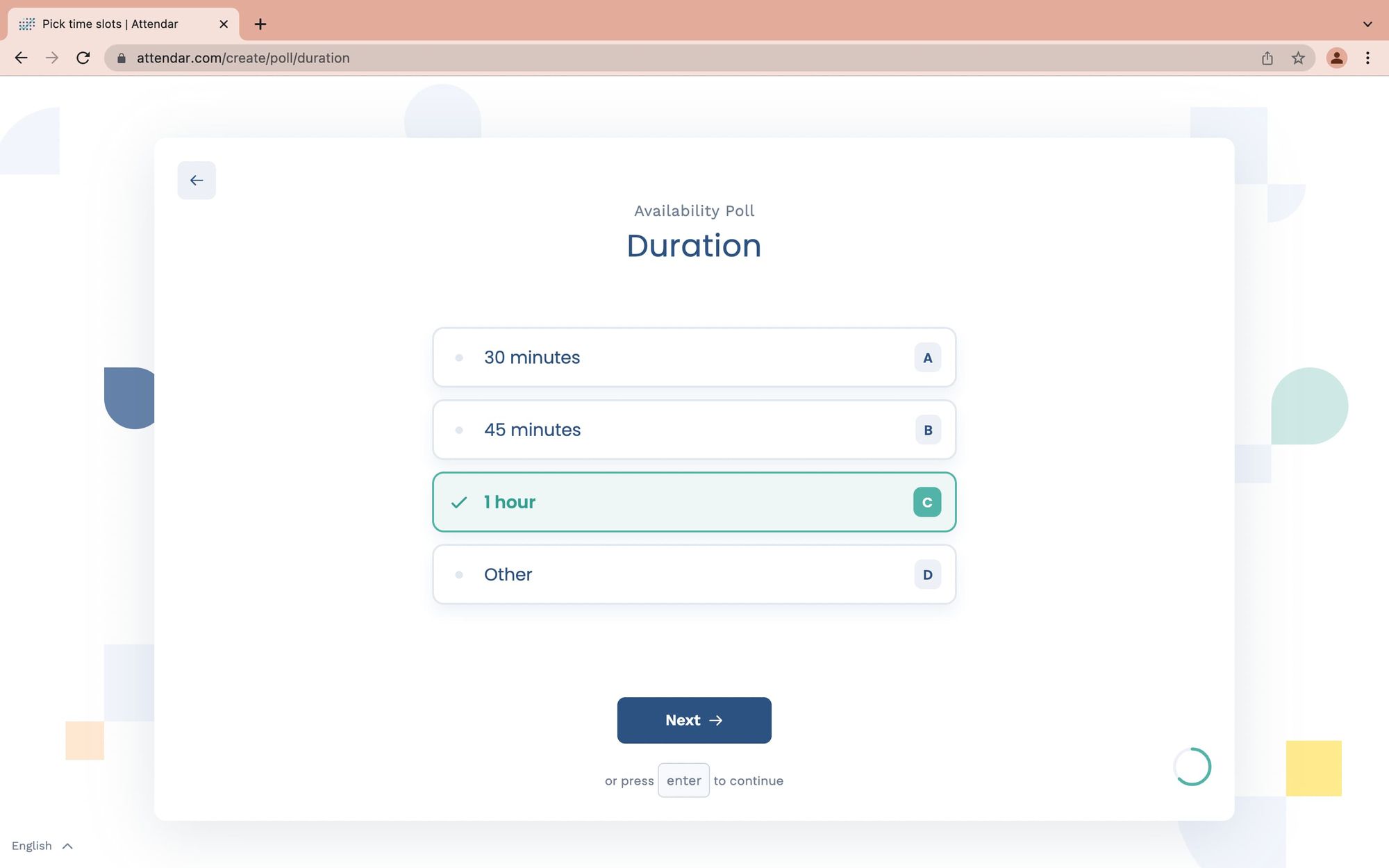 If the meeting is longer than 1 hour, click Other and it will give you more options.
Great, now we get to the most important part; Select times to propose 🗓
It's quite self-explanatory from the screenshot below actually. All you have to do here is to click on the calendar.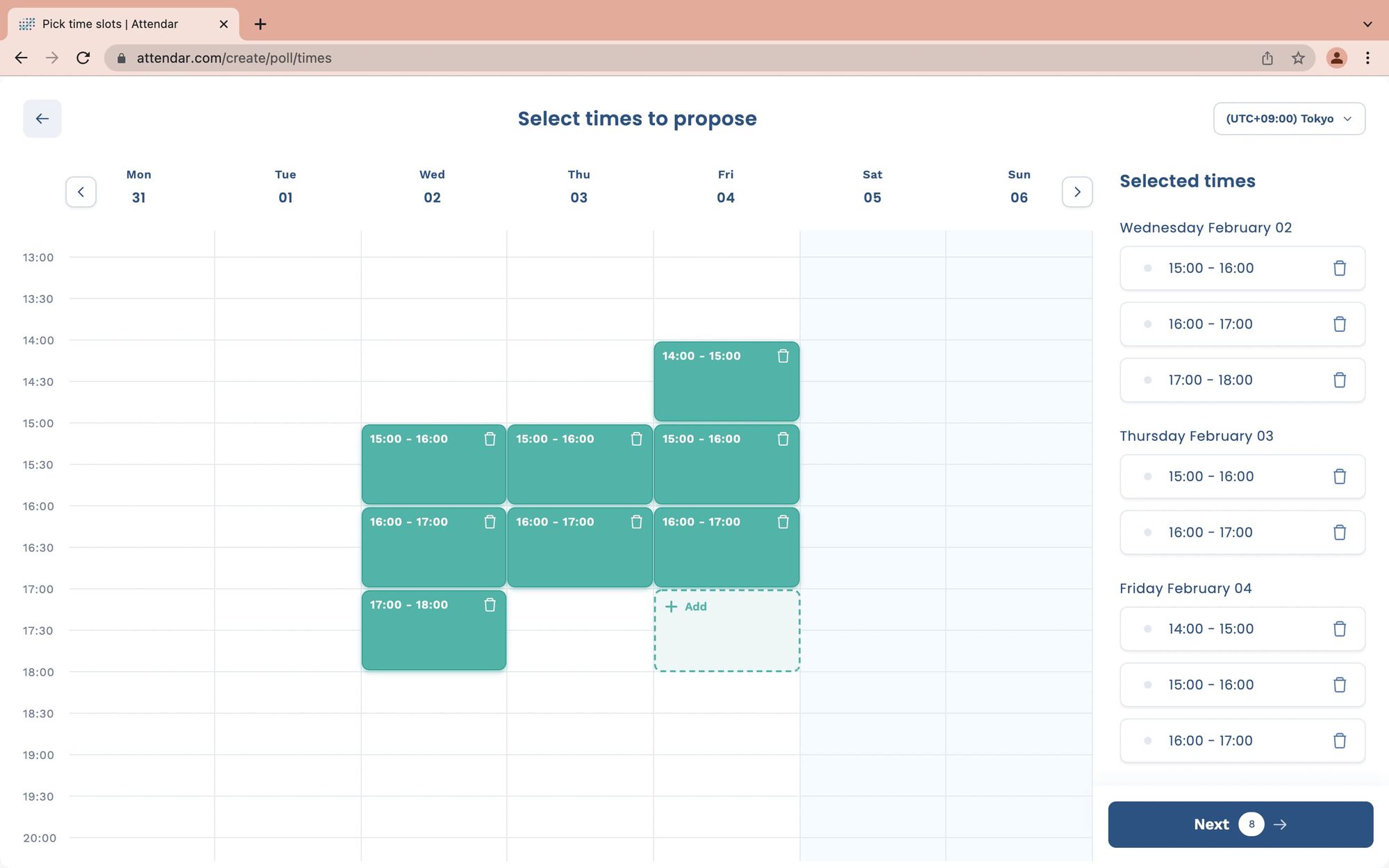 Each click selects a time and it shows up on the right sidebar.
Each block represents the same duration/length as what you set in the previous step (1 hour in the case of the screenshot above).
If you want to overlap multiple time blocks, you can do that by dragging a block over to another.
💡
Once we release the calendar integration, you will be able to overlay your existing events on this calendar. It will help you find times more quickly.
Lastly, you can even add a comment section or questions to customize your poll. This is like a simple form builder for participants to fill in.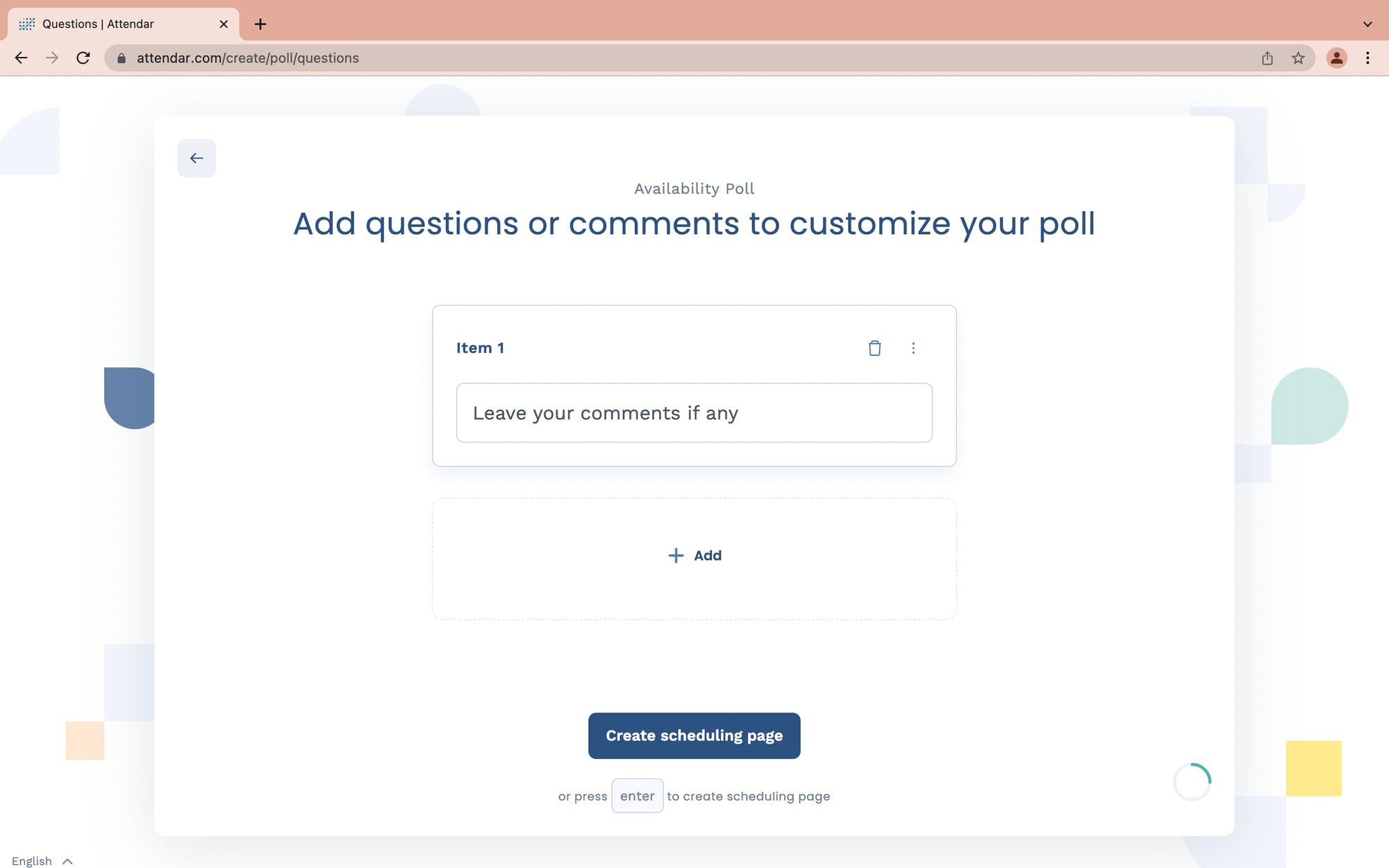 By default, you have a comment section as Item 1 but you can delete it if you don't need it.
You can click Add to create your own question. Just like any other form builder, we have the following options for the type of question.
Single line text
Long text
Single select
Multiple select
If you want to ask something for your group when they vote, this form-builder-like feature will certainly come in handy.
Congratulations, you've completed the availability poll creation process at this point! Hit Create scheduling page and you will land on the page below.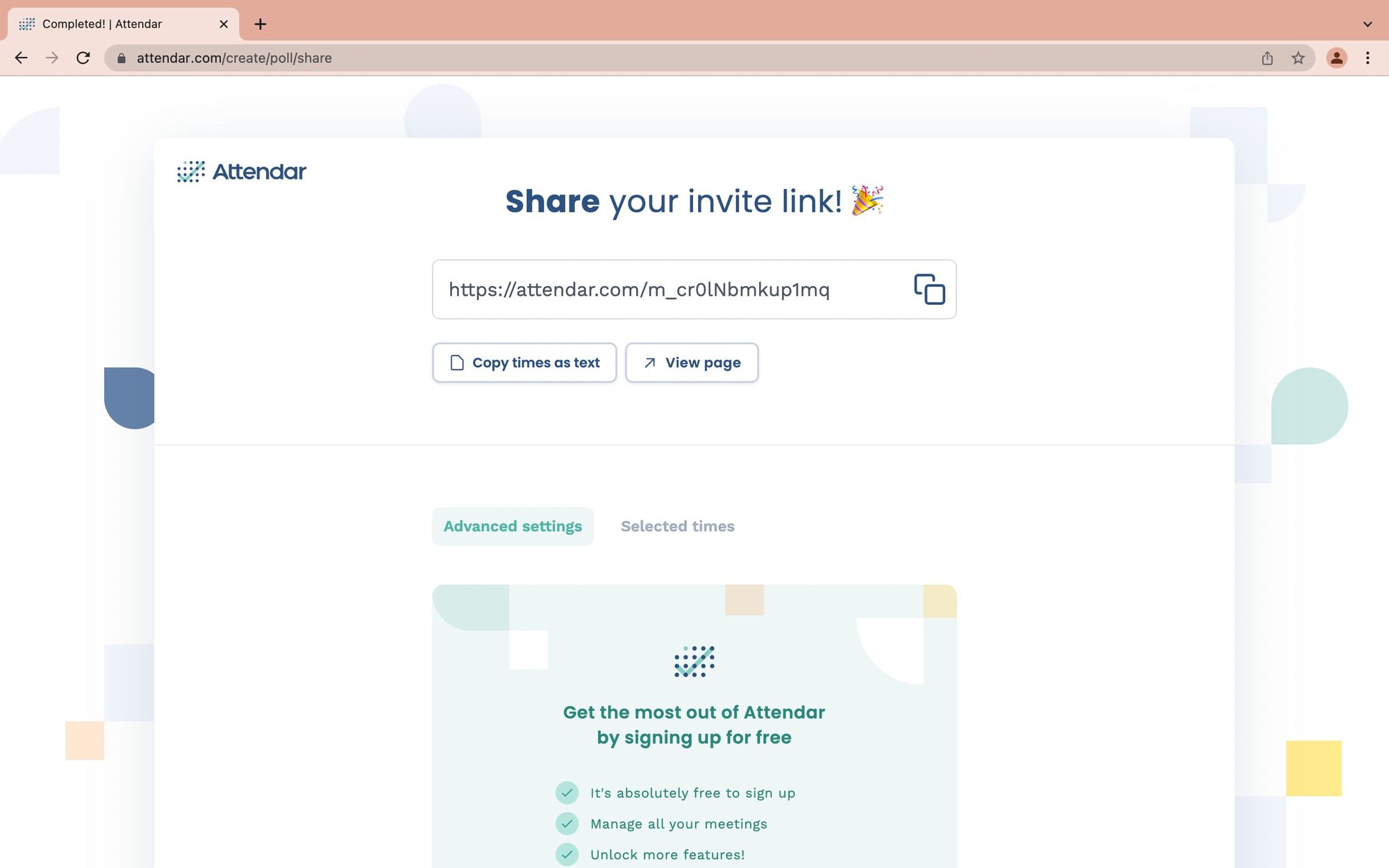 Copy the link that's just created and share it with your group to start voting.
How to vote
Vote for an Availability Poll is dead simple and very intuitive.
💡
We have
demo page
that you can touch and feel!
When you open an availability poll created with Attendar, the homepage looks like this.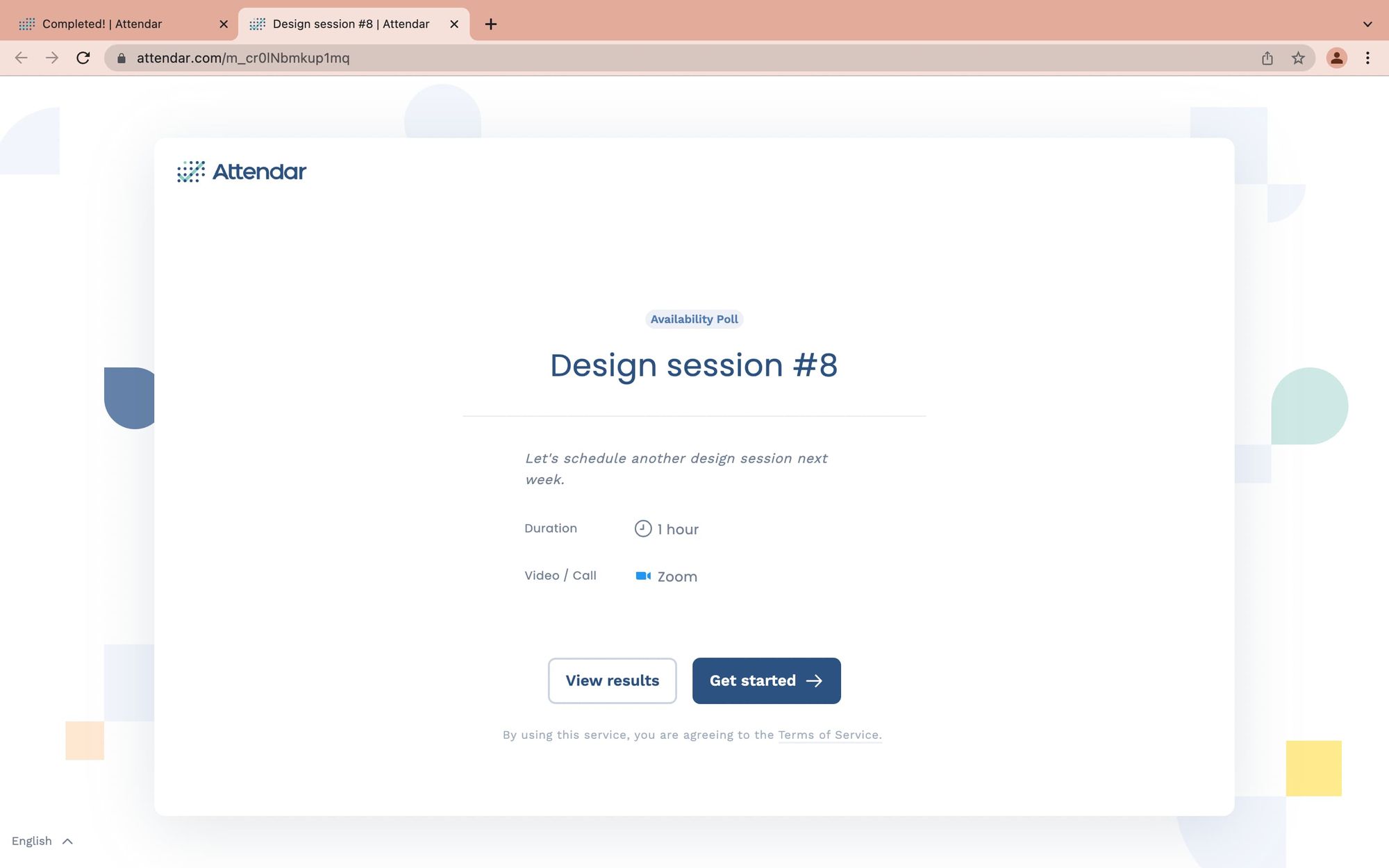 It gives you an overview of the scheduling event at a glance.
Click Get started and proceed to vote.
Here, it presents you with the proposed times as blocks on the calendar. All you have to do is tap a block once for Yes (available), twice for Maybe (?), and three times for No (unavailable) based on your availability.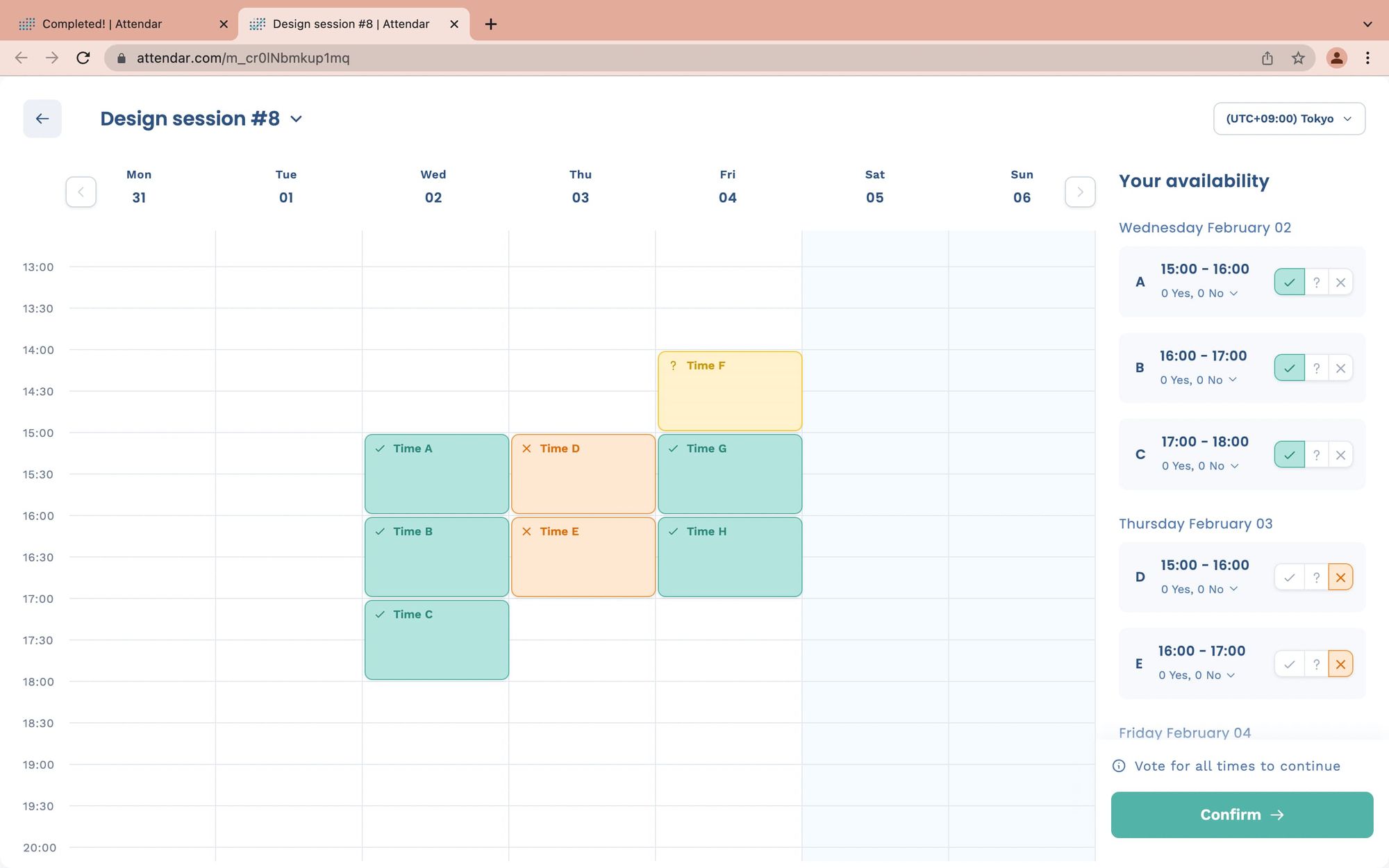 You can also use the right sidebar to select Yes, Maybe, and No.
💡
Once we release the calendar integration, you will be able to overlay your existing events here to easily see when you are available and when you are not.
When you vote for all the proposed times, hit Confirm.
Then the last part is for you to enter your name, and answer questions if any.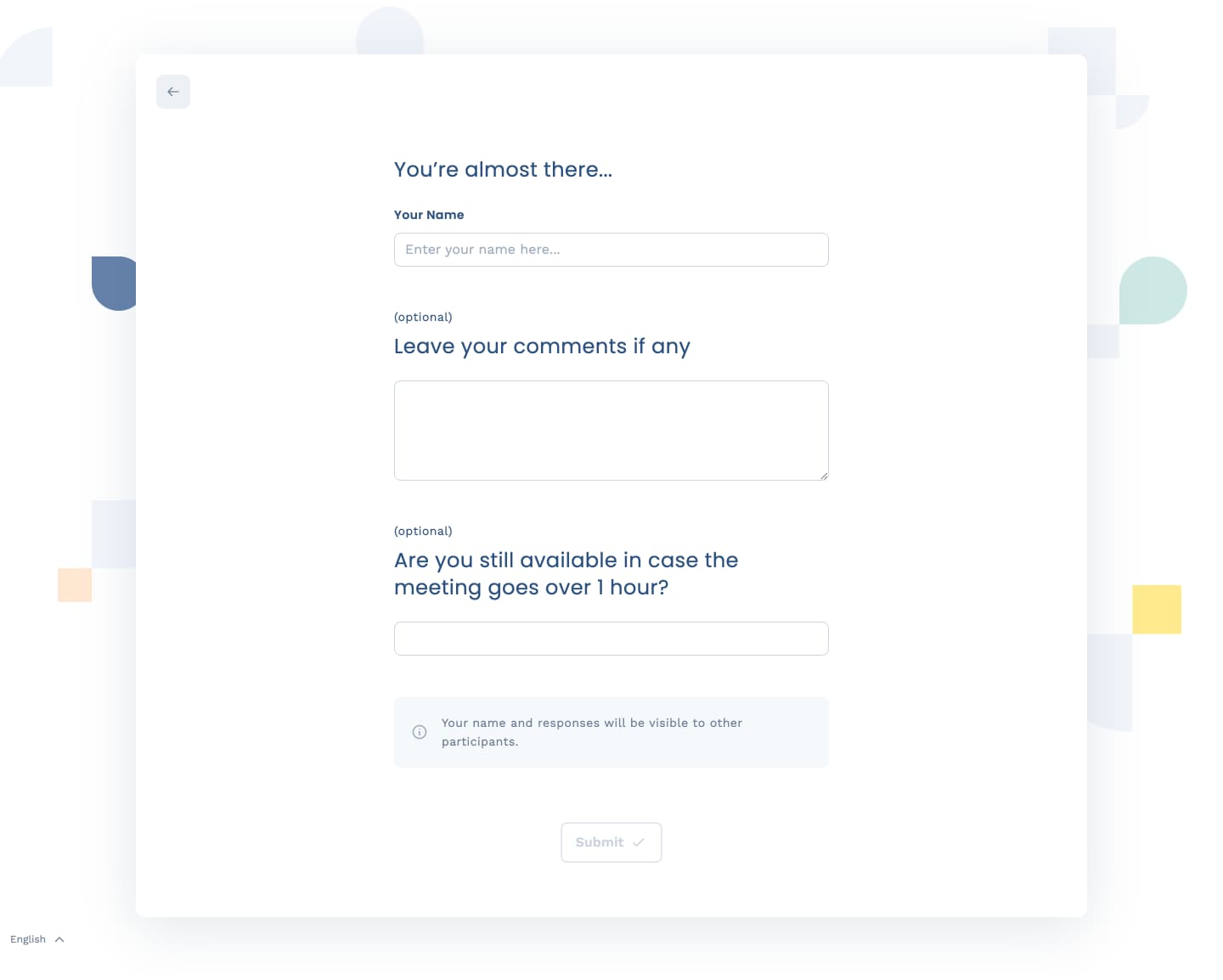 Everything about the voting flow should be straightforward and easy to understand.
💡
Some of the options available may be different depending on the configuration by the host/initiator.
How to check voting results
Simply click View results button next to Get started on the homepage of the scheduling page. That's it.
Currently, it shows the results as a list like this.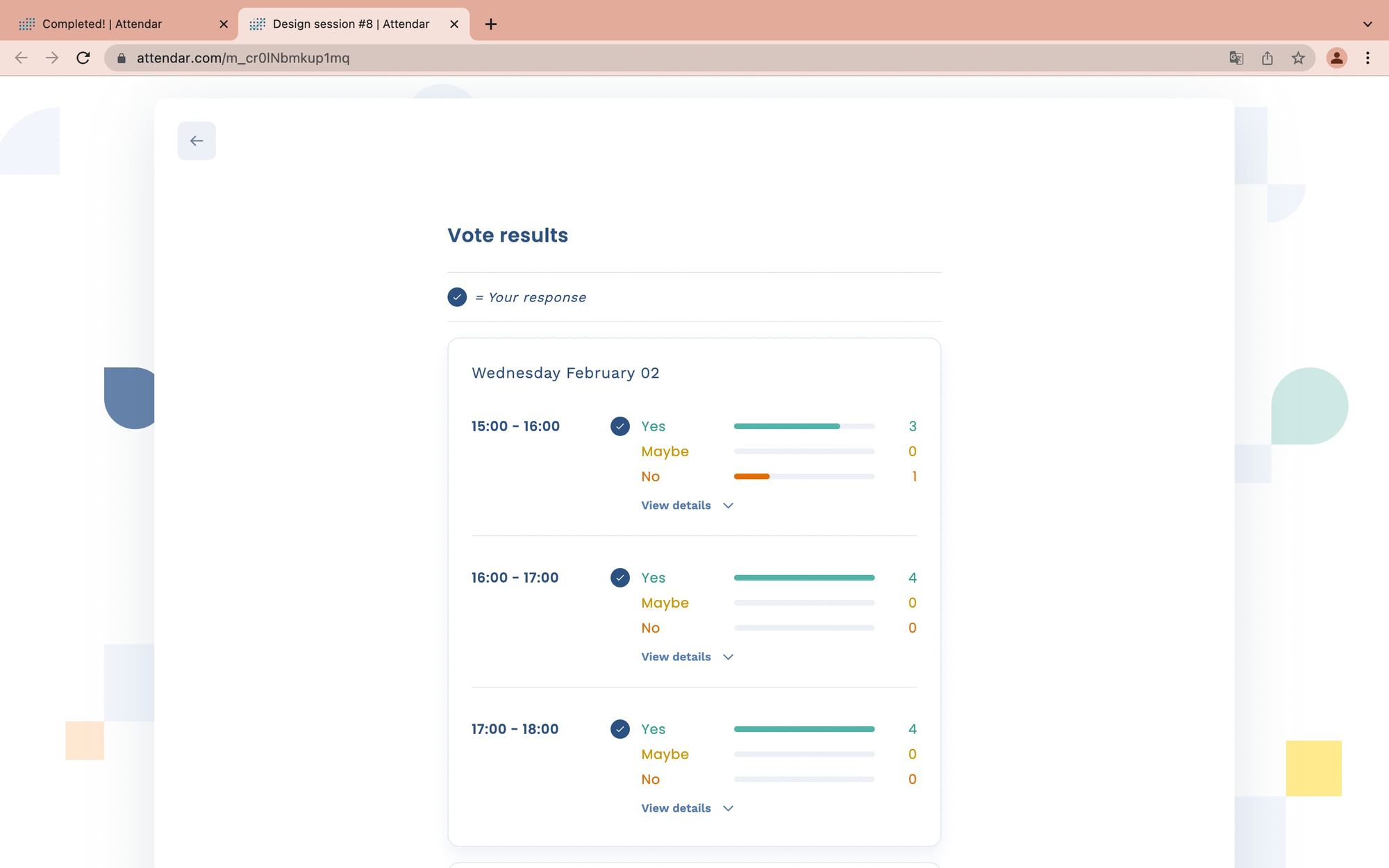 But soon, you should be able to view results in a table format.
You can check who voted what by clicking View details.
And everything works on mobile beautifully.
---
Hope this step-by-step guide helps you understand how Attendar can make group scheduling easy and efficient.
Feel free to play around with your own hands 👇 Again, no sign-up required!